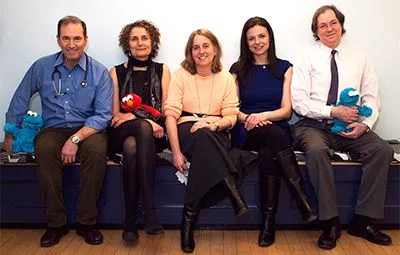 West End Pediatrics is a highly academic group practice composed of 5 board certified pediatricians. All of our doctors have received local and national recognition in the media through teaching awards and research awards or in peer-reviews such as Best Doctors in America, Best Doctors in the New York Area, or New York Magazine. We are a diverse group with wide ranging interests and expertise. This diversity is one of the strengths of our practice. We frequently consult amongst ourselves and learn from each other. We also try to learn from each experience with our patients and their families. We hope that you will learn something new every time you come to the office.
In addition to the practice, our physicians are on the academic faculty at several of New York's finest academic medical centers where they are actively engaged in teaching and research. You may see medical students or pediatric residents from Columbia, Cornell-Weill Medical Center, Montefiore or other institutions that we are helping to train to be the next generation of excellent physicians.
Please click on one of our providers below to get an overview of their experience. Get to know our physicians and pediatric staff. Usual office hours are indicated in the providers bio. Remember, that hours are subject to change.
---
---